Greetings community!
In this thread we try to answers your questions about the Kickstarter campaign. 
We have a few selected questions answered beforehand, but if you have more questions in your mind, do not hesitate to ask here!
Q & A
Kickstarter Questions
Toggle spoiler
"Why should I prefer the Kickstarter over secondary donation page?"
Of course we appreciate every contribution a lot. But: If we don't reach our set Kickstarter funding goal, we get nothing of the money at all.
This means that it's really important, that if you can, you donate on Kickstarter and not on the secondary donation page!
Not to mention that Kickstarter provides a much wider variety of awesome rare item packages you will be able to purchase. ;)
"I would like to donate, but I don't have a credit card. What now?"
Some countries offer pre-paid credit cards. Those are usually sold at bigger gas stations. Your private bank should also have it, if they are available in your country.
But if this is not an option for you, don't worry! We will soon provide a secondary donation page for you. There you can buy your alpha key and get some awesome item packs as well!
"Will secondary donation page have the same rewards that Kickstarter has?"
Both pages will offer you items that are the same, like alpha keys. But some items can only be bought on Kickstarter and vice versa.
"My country does not use euros. Can I donate anyways?"
Yes you can. Your currency will be converted into euros.
"When and how will I receive my alpha key?"
The alpha keys will be sent to you in early February 2017 to the email you used to sign-up on Kickstarter.
"When I donate 60€ via Kickstarter, do I get the alpha key or just the shoulder pets?"
You will get everything from 1€-60€ that doesn't have a limit.
"If I donate 20 euros , will I receive 20 euros worth Vengeance points upon beta release?"
No, you will get 10€ worth of Vengeance Points upon game release. (Or 7€ for Early Birds)
"So what happens when we don't get the 50.000?"
Then no money will be charged from your credit card and we don't get anything.
"Will the items like Bunny Ears & Shoulder pets be Kickstarter/donation page exclusive?"
The Bunny Ears are Kickstarter exclusive and can only be obtained by pledging the 150€ or more.
The shoulder pets are NOT exclusive to Kickstarter and will later be available in the store.
"50.000 is a lot of money... where is all that money going? I hope you will use it for the marketing?"
Game Questions
Toggle spoiler
"Why is the closed alpha coming out in 2017 instead of 2016?"
Important statement coming soon!
We thought we could do it in 2016. We bit off more than we can chew.
In the beginning it was our plan to launch Kickstarter on November and use the money to increase the development speed to bring you closed alpha in December. But then we realized that we had only one shot on Kickstarter and in our opinion just a short informative video wasn't enough to present you our game and it wouldn't show you what we have been doing during all this development time.
We had to delay the beginning of the closed alpha, so we can work on providing an enjoyable playable version of the game for you.
"When will the closed alpha start?"
21st of February 2017.
"How often can we play during closed alpha stage?"
You will be able to play every second week:
First closed alpha testers can play during the entire week. After that the servers will be closed for a week and we will improve and update the game.
Once updates are finished, we will open the server for another week to play.
"Will I be able to follow the development progress?"
Yes! Especially during the Kickstarter campaign, but also after it we will do weekly gameplay streams showing you what's new or improved.
Also we will have developers streaming while they are working on the project in real time.
Our introduction Q & A livestream will be on Renegade Line's TwitchTV channel, 23rd of December 2 PM CET!
"What about the OS?!"
Currently Renegade Line only runs on Windows PCs. This might change in the future depending on how many resources we have and how much work it requires to make the game available for Mac OS or Linux.
"Will it be possible to trade items?"
At some point in time, yes. We want develop a feature called "Black Market" that allows players to trade.
"What are the system requirements to run the game?"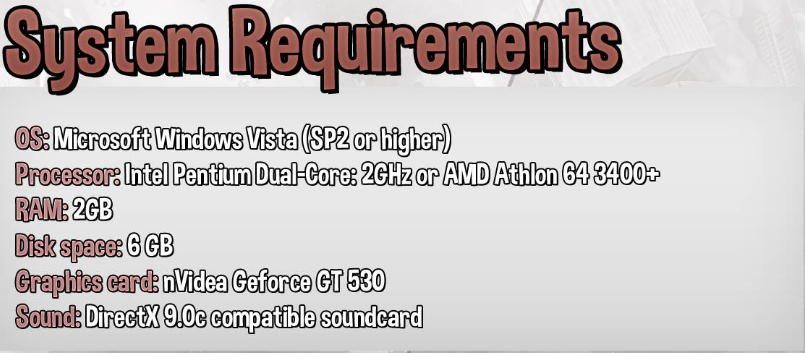 "Are we allowed to record footage from the closed alpha or stream it via Twitch etc.?"
Most likely yes, but this isn't 100% decided, yet.
"Will you guys add a first person view?"
Since Renegade Line is a third person game, we will most likely not add a first person view.
If you have more questions, feel free to leave a comment below! ;)